If you love sesame seeds, you've got to give this Black Sesame Macarons a try! This recipe by Chef Mimi teaches you to bake the perfect macaron that is light and airy that sandwiches the fragrant Black Sesame Custard Filling.
Cuisine : Baking Course : Dessert Skill Level : Novice
Prep : 45mins Cook : 25 mins Ready in : 70 mins Serves : 20-25

---
INGREDIENTS:
125 g Almond Ground (Sifted)
125 g Icing Sugar (Sifted)
125 g Sugar
100 g Egg Whites
5 g Toasted Black Sesame
Black Sesame Seed Custard Filling
160 g Egg Yolks 
100 g Corn Flour 
1000 ml Milk 
100 g Sugar 
150 g Black Sesame Powder [instant, add in 30 ml of hot water to form a paste] 
50 g Butter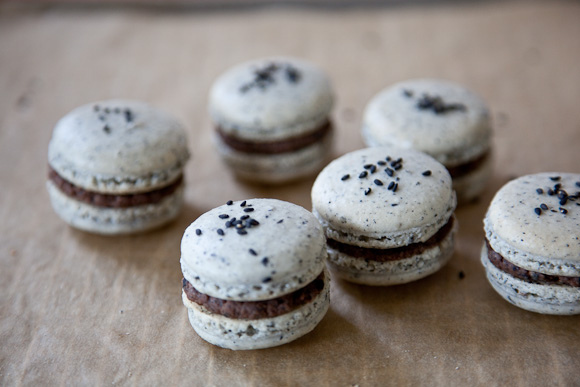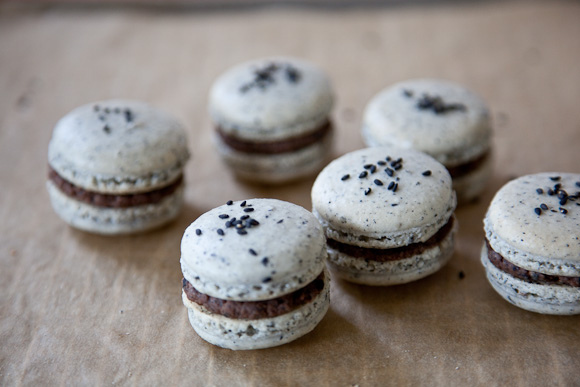 DIRECTIONS:
1. To make the macaron shell, kindly follow Step 2 – 16.
2. Mix the sifted ground almond and icing sugar in a bowl.
3. Heat up a pot of water for the bain marie.
4. Place the egg whites and sugar into a bowl.
5. Whisk the egg whites and sugar vigorously on top of the pot of bain marie.
6. While whisking, insert a finger to test the temperature of the egg whites.
7. The temperature should be very hot to touch.
8. Quickly transfer the mixture into the mixer and whisk on a highest speed.
9. When the meringue starts to form, lower the speed and add the colouring.
10. Continue to whisk until firm.
11. Fold in the almond ground and icing sugar into the meringue when it firms up.
12. Beat the mixture to a smooth dropping consistency. Add toasted black sesame.
13. Fill the mixture into a piping bag with a piping tube.
14. Pipe into drops of round shape onto the baking tray lined with baking paper.
15. Bake at 160°C for approximately 14 minutes. (Temperature and the timing of baking will varies according to the size of the piping and the oven used)
16. When the macaron shells are ready, put aside to cool.
17. To make the Black Sesame Seed Custard Filling, kindly follow Step 18 – 22.
18. Mix egg yolks and corn flour together in a bowl. Add in a little milk to dilute the mixture. Sift.
19. Heat up the rest of the milk and sugar in a pot till boiling.
20. When mixture boils, add in the egg yolk and corn flour mixture. Whisk till thicken. Add the sesame paste, continue to boil till thickens.
21. Take off from the heat and whisk in butter. Transfer to a bowl, cover with cling film and leave it to cool. Use as required.
22. Pipe in the filling and it is ready to be served.