These large sushi rolls use a full sheet of nori (seaweed) to enclose generous portions of your favourite fillings. Make these today for a fun and tasty lunch-to-go!
Cuisine : Asian  Course : Appetizer Skill Level : Novice
Prep : 40 mins Cook : 0 mins Ready in : 40 mins Serves : 2-4

---
INGREDIENTS:
Sushi Rice
Crab Sitck
Cucumber
Tamagoyaki
Pickled Radish (Daikon)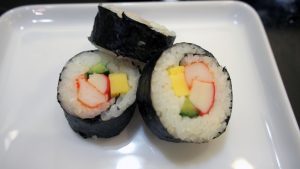 DIRECTIONS:
Prepare a small bowl of water with a few drops of vinegar. Dip your fingers in this to stop the rice from sticking to them.
Place a sushi rolling mat on your work surface and put ½ piece of toasted nori on top. Take a handful of rice and position the rice at the centre, spread the rice out onto the nori very thinly and evenly out and leaving a 1cm gap at the side furthest from you.
Cut the ingredients into long thin strips, and position them on the rice about 2 inches away from the side closest to you.
Roll the nori up away from you. When finished, position the roll with the end facing down, and leave it to rest for a few minutes.
Using a very sharp knife, cut the maki into pieces about half inch thick. Wipe the knife between each cut; otherwise it will stick to the nori.