Bake this light and airy Purple Sweet Potato Chiffon Cake for a satisfying tea time break!
Cuisine : Baking Course : Dessert Skill Level : Novice
Prep : 20 mins Cook : 65 mins Ready in : 145 mins Serves : 12-16 pcs

---
INGREDIENTS:
Group 1 – Hand-whisk together
70 g Egg yolk
30 g Fine sugar
70 g Corn oil
Group 2 – Mix Well
70 g Warm Water
200 g Mashed Purple Yam
Group 3
80 g Hong Kong flour (sifted)
1/4 teasp Fine salt
Group 4 – Beat together last using mixer
190 g Egg whites
100 g Fine sugar
2 teasp Corn Flour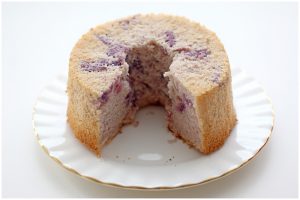 [/row
DIRECTIONS:
Tray Preparation: 22cm chiffon tin. Oven Preparation: Preheat oven at 170ºC for 20mins.
For the Yolk Mixture, follow Steps 3 to 5.
Use a hand whisk to combine (Grp. 1) together.
Pour the liquid mixture (Grp.2) & mix well.
Add in sifted flour & coconut powder (Grp.3) & mix.
For the Egg White Mixture, follow Steps 7 to 11.
Whisk the egg-white lightly.
Add in the corn flour & sugar gently & whisk till stiff.
Fold the Yolk mixture into it.
Bake at low shelf for 10mins, then lower to 160ºC and bake for 55mins.
Turn cake tin upside down & cool for 1hr.