With Bruno Compact Hot Plate, you can now make Japanese-inspired Leek & Shiitake Grilled Mochi Pancake!
Cuisine : Baking Course : Appetizer Skill Level : Novice
Prep : 1 hr 30 mins Cook : 10-15 mins Ready in : 1 hr 45 mins  Serves : 1-2 Servings
---
INGREDIENTS:
Mochi Pancake

150g Glutinous Rice Flour
150g Hot Water
2 tbsp Oil
40g Caster Sugar*

Substitute with 5g salt + a pinch of caster sugar for savoury Mochi

Leek & Mushroom Mixture

1 pc Leek, chiffonade
1 pc Red Chili, deseeded and diced
3-5 pcs Fresh Shiitake Mushrooms
1 tsp Sesame Seed Oil
Salt to taste
White Pepper to taste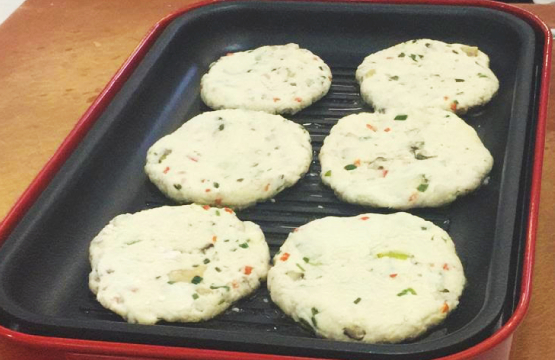 DIRECTIONS:
Stir fry leek, chili and mushrooms quickly and set aside to cool.
To make mocha pancake, add oil, salt and sugar to water and bring to a boil. Make a well in the center of glutinous rice flour and pour the hot water mixture in.
Mix immediately with a pair of chopsticks or wooden spoon until dough is formed.
When dough is cool enough to touch but still fairly hot, add in cooled leek mixture. Fold and knead until the surface is smooth. Add a little more water or glutinous rice flour if it is too dry or wet.
Set aside to rest for about 5 minutes, covered in cling film or a damp cloth.
Divide dough into 6 portions and roll them out to around 8mm thick.
Using the Bruno Grill Plate attachment, turn the heat to medium-high and coat hotplate with a bit of oil. Slowly grill pancakes until golden brown and on both sides.
Cut into bite sized strips. Serve with some sweet sauce and chili sauce for dipping.