Turn into a pro in an instant and impress your pals with this dish! With the use of pork trotters, mushrooms, and chestnuts into a succulent dish that combines both tender and chewy textures.
Cuisine : Asian Course : Main Skill Level : Novice
Prep : 10 mins Cook : 150 mins Ready in : 160 mins Serves : 8

---
INGREDIENTS:
Spice Mix

4 tbsp Oil
50g Whole Garlic
20g Old Ginger
1 piece of Cinnamon Stick
2 pieces of Star Anise
8 pieces of Cloves
10g Kum Chao (Anise Root)
2 pieces of Dried Tangerine Peel (Lau Chen Pi)

Gravy

5 litres of Water
80g Lump Sugar
50ml Dark Soya Sauce
200ml Light Soya Sauce
1 Whole Pork Knuckle
500g Chestnuts (peeled and pressure cooked for 30 minutes)
30g Dried Shitake Mushrooms (trimmed cornstarch for thickening)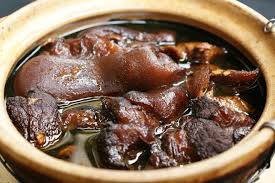 DIRECTIONS:
Heat oil and sauté the fresh spices till fragrant. Add the dried spices and cook briefly.
Pour in water, sugar dark and light soya sauces to the braising pan with the sautéed spices. Place pork knuckles in pan and bring to boil and simmer for 1 ½ to 2 hours till meat is tender. Use some of the gravy to simmer the chestnuts for 15-20minutes till tender.
Drain the gravy and discard the spices. Thicken gravy slightly with some cornstarch. Spoon some gravy over the knuckle and keep the rest in the freezer until the next round of braising.
Serve pork knuckles with mushrooms and chestnuts.