This Asian Breakfast delight, You Tiao is crispy on the outside and fluffy inside! It taste perfects by itself and even better when paired with Hot Soya Milk!
Cuisine : Asian Course : Appetizer Skill Level : Novice
Prep : 300 mins Cook : 10 mins Ready in : 310 mins Serves : 6-8

---
INGREDIENTS:
500 g Plain Flour
1 tsp Double Actions Baking Powder
5 tbsp Caster Sugar
3 tbsp Garlic Oil
1 tbsp Minced Garlic (fried)
350 ml Water
2 tsp Salt
3/4 tsp Ammonia Powder
1/4 tsp Alum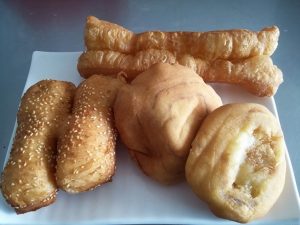 DIRECTIONS:
Mix all ingredients together & rest for about 5hrs.
Take out every 1hr and flip the bottom side up for even relaxation of the gluten.
Roll into 1cm thick rectangle long strip with 6cm width. Cut into strips of 2cm x 6cm long.
Brush water on one pcs and place another piece on top. Use a satay stick to indent in the middle of the dough.
Deep fry in hot oil till crispy brown, tossing the dough frequently.