Relish every spoonful of this irresistibly decadent Chocolate Lovers' Pie that is the perfect finish to a meal!
Cuisine : Baking Course : Dessert Skill Level : Novice
Prep : 20 mins Cook : 15 mins Ready in : 215 mins Serves : 6-8 Servings

---
INGREDIENTS:
CRUST

100g Oreos
25g Melted Butter

FILLING

1 Whole Egg
1 Egg Yolk
30g Sugar
110g Chocolate
60g Butter
1/8 tsp Salt
½ tsp Vanilla Extract
25g Brown Sugar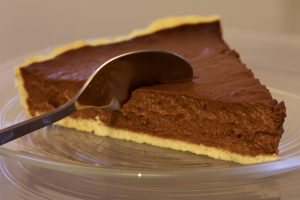 DIRECTIONS FOR CRUST
Crush the Oreos in a blender or a food processor.
Stir in the melted butter and press the mixture into a pie mould.
DIRECTIONS FOR FILLING
Whisk the whole egg, yolk, salt and the sugars together until tripled in volume.
Melt the butter and the chocolate together. Stir in the vanilla and pour it into the eggs. Whisk with and electric whisk until well combined and a bit of the volume deflate.
Pour the batter onto the crust from a height in order to deflate any big air bubbles.
Bake the pie at 160C for 15 minutes.
Cool to room temperature and refrigerate for at least three hours before serving.
Serve with slightly whipped cream and berries if desired.