Make your own authentic German Soft Pretzels at home with Chef Julie's recipe. Crispy on the outside and soft in the middle, dip them in your favourite dip for the perfect snack!
Cuisine : Baking Course : Appetizer Skill Level : Novice
Prep : 95 mins Cook : 30 mins Ready in : 125 mins Serves : 2 Servings
---
INGREDIENTS:
600g Plain Glour
5gm Malt Powder
5tsp Salt
1 tbsp Sugar
80g Full Cream UHT Milk
300g Warm Water
7gm Yeast (1 Packet)
60g Room Temp Butter
5L Butter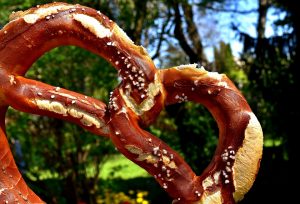 DIRECTIONS 
Mix the dry ingredients together.
Add in all the other ingredients except the butter.
Knead for 10 minutes before putting in the butter cubes.
 Knead till the dough does not stick to the bowl.
Let it ferment for 45 minutes & punch down.  Cover & rest for 10 minutes.
Scale into desired shapes for pretzels and loaf.  Proof for 15 minutes for pretzels.
Boil 2.5l water with baking soda in a huge pot till boil (be careful will bubbly a lot)
Boil pretzels for 30 seconds each. Remove and place on oiled parchment paper.
Brush with egg wash and sprinkle with coarse salt or brush with honey.
Bake at 230C for the pretzels for 15mins and 200C for the loaf.