Dip your favourite pretzel into either a savoury Sour Cream and Onion dip or a sweet Caramel dip for the ultimate treat!
Cuisine : European Course : Appetizer Skill Level : Novice
Prep : 20 mins Cook : 5 mins Ready in : 25 mins Serves : 2-4 Servings
---
INGREDIENTS:
Sour Cream and Onion Dip

2 tbsp Olive Oil
1 Yellow Onion
100g Sour cream
100g Mayonnaise
1 tsp Lemon Juice
2 tbsp Spring Onion
¼ tsp Garlic Powder
A pinch of Salt

Caramel Dip

230g Fine Sugar
1 tbsp Corn Syrup
1 tsp Salt
¼ cup Water
180g Whipping Cream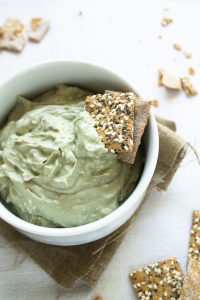 DIRECTIONS FOR SOUR CREAM AND ONION DIP
Saute the chopped onions with the Olive Oil till caramelized.
Set aside till really cool.
Mix all the other ingredients and stir in the onion.
DIRECTIONS FOR CARAMEL DIP
Boil sugar, corn syrup, water and salt till caramelized.
Off the fire, add in whipping cream and stir till smooth.