Enjoy the traditional Venetian Salsa Pasta with a sauce made of onions, salted anchovies and olive oil!
Cuisine : European Course : Main Skill Level : Novice
Prep : 15 mins Cook : 25 mins Ready in : 40 mins Serves : 4 Servings
---
INGREDIENTS:
Fresh Pasta

200g Plain Flour
2 tbsp Olive Oil
2 Eggs
3g Sea Salt
1g Freshly Ground Black Pepper
Venetian Salsa Sauce

200g Onion, thinly sliced
50g Anchovy
3 Garlic, Crushed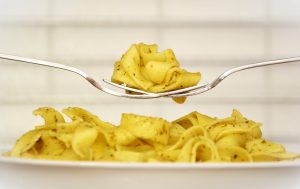 DIRECTIONS FOR FRESH PASTA
Mix flour, salt, pepper and olive oil in mixing bowl.
Form a well in middle of bowl.
Add in the eggs.
Start mixer on low speed until all ingredients are well mixed. Increase mixer speed to medium and mix for 5-7 minutes more.
Allow to rest for at least 30 minutes.
Perform finger test to see if dough is ready. The dough is sufficiently rested if the imprint remains.
Lightly flour dough, cut into 4 quarters.
Leaving the other 3 quarters covered, flatten one quarter with a rolling pin.
Start the pasta machine on the widest setting and put the dough through it twice.
Turn the setting one notch down and put the dough through twice again. Lightly flour the dough if it's sticky to ensure it does not get caught in the machine.
Continue through the settings until desired thickness is obtained.
Allow the flatten dough to dry.
Repeat process for the other 3 quarters.
Once dough is dry to the touch, it can be cut into the desired shape using the pasta machine of a sharp knife. Liberally dust the dough with flour prior to cutting.  This will prevent the noodles from clumping together.
DIRECTIONS FOR VENETIAN SALSA SAUCE
Add onion, garlic and anchovy into pot.
Slow cook for 1 hour or until onions become very soft.