Are you a fan of Rilakkuma, the cute Japanese teddy bear? Impress your guests with this tasty Rilakkuma Inari recipe – it's bound to be a hit with both kids and adults!
Cuisine : Asian  Course : Appetizer Skill Level : Novice
Prep : 40 mins Cook : 0 mins Ready in : 40 mins Serves : 2-4

---
INGREDIENTS:
Freshly Cooked Rice
Inari Skins
Seaweed
Cheese Singles
Ham for Korilakkuma
Useful Tools: Hole Puncher, Tweezers, Scissors
*Prepare seaweed for the eyes, noses and mouth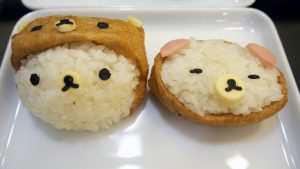 DIRECTIONS:
Put rice inside the inari skin. Fold the top layer of inari age in. Leave the back side as it is. Shape a barrel-shaped rice ball using plastic wrap and fill it into the inari age.
Put seaweed on the mouth and add eyes.
Cut out the cheese slice with an oval-shaped cutter. Paste it to its mouth part. Cut the ears out using the same cutter. Assemble it on the top edge corner where the ears are.