These colourful and jewel-like fruit tartlets you might see in traditional French bakeries are always an eye-catcher. Filled with almond cream and a hint of bitter almond, everyone loves them! And, good news: they are deceptively easy to prepare! These are perfect for a summer afternoon tea with friends, when soft fruits and berries are plentiful and at their best. Don't hesitate to prepare the tartlets one day before your tea – the almond filling will set and the taste is even better!
Cuisine : Baking Course : Dessert Skill Level : Novice
Prep : 30 mins Cook : 20 mins Ready in : 60 mins Serves : 12

---
INGREDIENTS:
150g Pâte sablée sucrée*
70g White almond powder
70g Unsalted butter
90g Sugar
2 Eggs
¼ tsp Bitter almond extract
1 tbsp Plain flour
100g Heavy cream 35 %
200g Fresh berries & fruits

*For the Pâte sablée (French term for a delicate cookie-like crust)

125g Unsalted butter
80g Icing sugar
½ tsp Vanilla flavour
1 egg, 60g
200g Plain flour
40g White almond powder
½ tsp Salt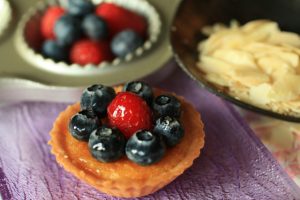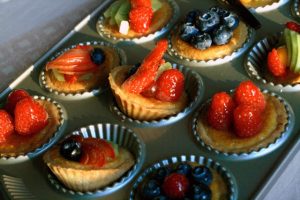 DIRECTIONS:
Preheat oven at 200°C.
Roll out the pastry on lightly floured surface, 3 mm thick and cut 12 rounds of pastry about 10 cm in diameter.
Line French tartlette pan with rounds of pastry, trimming away any excess using a rolling pin.
Prepare almond filling : in a bowl of your stand mixer, whisk soft butter with sugar, almond powder and bitter almond extract until very light and fluffy – add eggs little by little, then flour and cream in a steady stream and continue to whisk until it doubled in volume.
Spread 1 tablespoon almond filling on the bottom of the tartlet mould (you can do a second tray with the remaining filling).
Bake in the lowest part of the preheated oven for 20 or until golden brown.
Take tartlets out of the pan and let them cool out on a wire rack.
Decorate your almond tartlets with colour berries, kiwi or grapes.


*For the Pâte sablée

In a stand mixer, mix butter and icing sugar using a flat beater, until creamy.

Add vanilla flavour, salt and egg. Mix well on medium speed.

Sift the flour and almond powder into butter/egg cream, then mix just until the dough comes together.

Remove dough from the mixer, pat into a rectangle and cover in cling wrap. Refrigerate for at least one night before using.