Learn to make these deliciously healthy Air Fried Seaweed Chips and snack on it throughout this Chinese New Year without having to worry about the calories!
Cuisine : Baking Course : Dessert Skill Level : Novice
Prep : 30 mins Cook : 35 mins Ready in : 65 mins Serves : 6-8

---
INGREDIENTS:
250g Cream cheese
80g Icing sugar
1 tsp Vanilla essence
55g Egg
125g Chocolates feves ( 55%- 70%)
125g Golden churn unsalted butter
40g Brown sugar
110g Eggs
65g Plain flour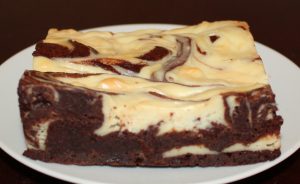 DIRECTIONS:
Melt chocolate, butter and sugar over a pot of simmering water.
Add in the eggs and mix well.
Add in the flour to combine well.
Cheese Layer: Whip the softened cream cheese and sugar until fluffy than add in the eggs and vanilla essence and combine well
Pour the brownies batter into a pan.
Pour the cheese layer on top and level it well.
Bake at 170 degree Celsius for 35 mins.
Variations: You may omit the cheese layer and topped with marshmallows, any roasted nuts of your choice.