Try making these chewy, luxurious biscuits at home that is worth the calories!
Cuisine : Baking Course : Dessert Skill Level : Novice
Prep : 35 mins Cook : 10 mins Ready in : 45 mins Serves : 1 container

---
INGREDIENTS:
10 g Butter
50 g Sugar
10 g Liquid Glucose
50 g Whipping Cream
60 g Sliced Almonds
50 g Candied Orange Rind
100 g Chocolate For Coating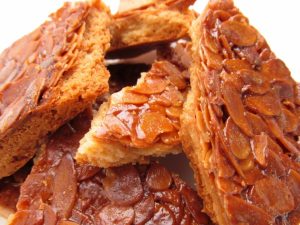 DIRECTIONS:
Put the butter, sugar, liquid glucose and the cream in a pan.
Cook the mixture stirring occasionally until it turns golden brown.
Take it off the heat and add in the sliced almonds and the candied orange peel
Divide the mixture into 20 g balls and place them into silicone molds.
Flatten them slightly and bake them in a preheated oven at 180 ºC for 8-10minutes.
Allow to cool, take them out and spread with melted coating chocolate.
Allow the chocolate to set in the refrigerator for about 15 minutes.
Store in an airtight container for a week.