This fruit cake has low flour content and is made dense enough for the fruits to suspend. It is basically made with chopped (dried) fruits and/or dried fruit nuts. Unlike any other cakes, this may be stored for years –  just make sure you wrap the cake in alcohol soaked linen before storing!
Cuisine : American Course : Dessert Skill Level : Novice
Prep : 15 mins Cook : 40 mins Ready in : 55 mins Serves : 6

---
INGREDIENTS:
150g Butter
135g Sugar
3 Eggs
150g Plain Flour
1 tsp Baking Powder
½ tsp Nutmeg
¼ tsp Clove Powder
1 tsp Cinnamon
½ tsp Ginger Powder
70g Molasses or Black Treacle
250g Soaked Fruits
45g Candied Ginger
45g Candied Peel
45g Raisins
45g Currants
45g Cashew Nuts
45g Almonds
100g Orange Juice or Rum
300g Marzipan
300g Fondant
100g Apricot Jam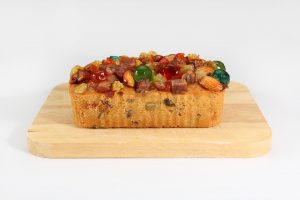 DIRECTIONS:
Cream the butter and the sugar together. Incorporate the eggs in one by one.
Sift the flour with the baking powder and spices, and fold it into the butter and egg mixture.
Stir in the molasses and the soaked fruits.
Pour the batter in a prepared 6″ mold and bake it at 180°C for 30 – 40 minutes, or until a skewer comes out clean. Demould the cake and allow it to cool completely.
Heat the apricot jam with 2 tbsp of water. Brush the cake with the jam.
Roll out the marzipan and cover the cake.
Brush the marzipan with a little jam and cover it with a layer of fondant.
Decorate using coloured fondant cut-outs and ribbons if desired.