School's out and we've got the perfect recipe for the kids to try this holiday! Icy, creamy and yummy Froyo Granola Bites are the best way to beat the heat!
Cuisine : Baking  Course : Dessert  Skill Level : Novice
Prep : 80 mins Cook : 0 mins Ready in : 1 h 20 mins  Serves : 6 – 8 servings
---
INGREDIENTS             
1 cup Granola
300g Yoghurt of your choice
1 tbsp Honey
1 tbsp Butter
½ cup Berries of your choice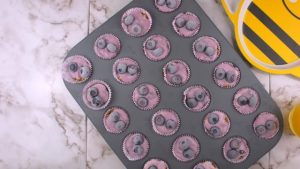 DIRECTIONS       
Line 24-Hole Mini Muffin Tray with mini muffin wrappers.
Melt butter and honey in a heat-proof bowl in the microwave or over a double boiler.
Place granola in a medium-sized mixing bowl. Add melted butter and honey mixture and stir till evenly combined.
Divide mixture evenly in muffin tray, approximately 1 tbsp each.
Top each one with a tablespoon of yoghurt.
Chill in freezer for 1 hour or until frozen.