Try this impeccable combination of chocolate and coconut cake which is perfect for any time and occasion!
Cuisine : Baking Course : Dessert Skill Level : Novice
Prep : 15 mins Cook : 45 mins Ready in : 60 mins Serves : 12

---
INGREDIENTS:
3 Eggs
100g Butter
¾ cup Sugar
2 tsp Chocolate emulco
1 tsp Vanilla extract
¼ cup Unsweetened cocoa powder
¼ tsp Salt
1 tsp Baking powder
¾ cup Flour
¼ cup Desiccated coconut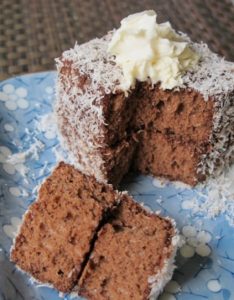 DIRECTIONS:
Preheat oven to 180°C.
In a separate bowl, combine the flour, baking powder, cocoa powder and salt. Sieve well.
In a mixing bowl, beat butter and sugar till fluffy for about 5-7 mins.
Add in eggs gradually one by one.
Add in the chocolate emulco. Pour in all the flour mixture and continue to beat till you get a smooth mixture.
Pour in the desiccated coconut and stir well.
Pour the cake batter in a baking pan lined with parchment paper.
Put inside oven and bake for 45 mins or till cake is ready.
Leave to cool completely before cutting into two layers.