Try this moist Sugar Jam Roll recipe by Chef Julie Yee for your next baking session!
Cuisine : Baking Course : Dessert Skill Level : Novice
Prep : 30 mins Cook : 15 mins Ready in : 45 mins Serves : 4-6

---
INGREDIENTS:
Group 1
70gm Cake /Top/HK Flour
1/2 tsp Baking Powder
Group 2
3 Egg White
6 Egg Yolk
70gm Fine Sugar
1 tsp Vanilla Extract
Group 3
50gm Hot Corn Oil
50gm Hot Milk
Jam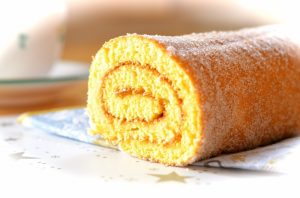 DIRECTIONS:
Sift Group1 (Flour & Baking Powder) together.
Beat egg white till soft peak with sugar.
Add in egg yolk & vanilla (Group 2) gradually.
Whisk till thick & ribbon stage.
Pour in the warm milk & whisk for another 10 seconds.
Hand fold sifted flour gently.
Pour in the hot oil at one go and hand mixed till well mixed quickly.
 Bake at 200ºC for 12mins.
Cover with a clean wet towel till use.
Spread your favorite filling onto the sponge sheet and roll tightly.