Sink your teeth into this moist and flavourful hummingbird cake with bananas, pineapples and walnuts! Frost it with a delicious cream cheese for a classic southern dessert!
Cuisine : Baking Course : Dessert Skill Level : Novice
Prep : 20 mins Cook : 30 mins Ready in : 50 mins Serves : 4-6 Servings
---
INGREDIENTS:
180g All-purpose Flour
½ tsp Baking Soda
½ tsp Salt
½ tsp Cinnamon Powder
160g Fine Sugar
90g Eggs
130g Unsalted Butter Melted
1 tsp Vanilla Extract
115g Pineapple, chopped
100g Walnuts, chopped
100g Bananas, chopped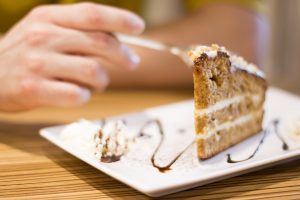 DIRECTIONS:
Preheat oven to 170 deg and grease 2 nos of 7 inches cake tins.
In a mixer bowl, sift the flour, baking soda, salt and cinnamon powder.
Add sugar.
Add in the beaten eggs and the melted butter.
Mix to combine. Do not vigorously beat the mixture.
Fold in the vanilla extract, pineapple and walnuts.
Pour mixture into prepared tins and bake in the pre heated oven for approximately 25-30 minutes.
Check for doneness with a toothpick.
Remove from oven and cool.
Once cool, spread the frosting on top of both sponges and layer them up.
Then spread the remaining frosting on the sides of the cake, covering the whole sponge.
Decorate with chopped toasted walnuts.
Chill before serving.