Add an Asian twist to this traditional French cake. Savour the fragrant aroma of the lemongrass as you bake and bite into a refreshingly light sponge that is sure to delight your palate.
Cuisine : Baking Course : Dessert Skill Level : Novice
Prep : 30 mins Cook : 15 mins Ready in : 45 mins Serves : 12

---
INGREDIENTS:
135g All-Purpose Flour
4g Baking Powder
100g Unsalted Président Butter (softened)
135g Caster Sugar
2 Large Limes (zested and juiced)
4 Eggs
2 stalks of Lemongrass (finely grated)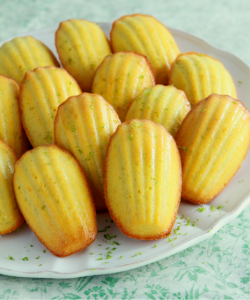 DIRECTIONS:
Preheat the oven to 190°C.
Sift the flour and baking powder together.
Whisk the butter until creamy. Add sugar and lime zest, and whisk again until well combined. Whisk in eggs one by one. Add flour and lemongrass, and mix well.
Cast into madeleine moulds (either silicon or black steel; avoid aluminium).
Bake for 10 to 15 minutes, or until golden brown. Remove from the oven and drizzle with lime juice. Turn out onto a wire rack to cool.