Tempt your taste buds with this deliciously rich and fudgy Cappuccino Brownie Cake Slice by Chef Julie Yee!
Cuisine : Baking Course : Dessert Skill Level : Novice
Prep : 15 mins Cook : 30 mins Ready in : 105 mins Serves : 10-12

---
INGREDIENTS:
120 gm Pure Salted Butter (Group 1)
90 gm Dark Chocolate (Group 1)
250 gm Fine Sugar (Group 1)
3 Eggs (Group 1)
1 teasp Vanilla Paste (Group 1)
120 gm Plain Flour (Group 2)
1 tbsp Nescafe Coffee Powder (Group 2)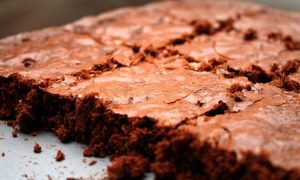 DIRECTIONS:
Tray Preparation: 8inch square tray – Lined with Parchment paper with side 5cm paper.
Oven Preparation: Preheat top & Bottom heat 170C for 20mins.
Melt Group 1 butter and chocolate.
Whisk in the sugar.
Add in the eggs one at a time.
Followed by flour and coffee powder in Group 2.
Pour batter into the pan.
Bake at 170C for about 30mins till top is set and the toothpick comes out with a few moist crumbs attached. Rest in the pan for 1hr.
Optional – Pour ganache on top is desired or Drizzle 1tbsp of rum on top if you like.