These elegant cakes shaped like scallop shells are the perfect snack with a cup of tea – try your hand at Dr Jehanne Ali's fool-proof version!
Cuisine : Baking Course : Dessert Skill Level : Novice
Prep : 130 mins Cook : 40 mins Ready in : 170 mins Serves : 2-4

---
INGREDIENTS:
2 Large eggs
80g Sugar
130g Plain flour
¾ tsp Baking powder
Zest of 1 lemon
135g Unsalted butter
A pinch of salt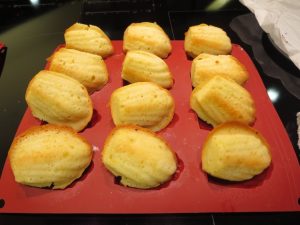 DIRECTIONS:
Beat the eggs and sugar until pale and fluffy.
Fold in the melted butter and lemon zest.
Combine the plain flour, baking powder and salt.
Fold into the batter.
Refrigerate batter covered with cling film for at least 2 hours.
Preheat the oven to 200ºC.
Spoon into greased (and sprinkled with sugar) mould.
Bake for 6 mins then reduce heat to 160ºC and bake for another 6-8 mins.
Tip: when using silicone mould, sprinkle some coarse sugar onto the mould before spooning the batter. This will help caramelize the madeleines.