Learn how to create this beautiful Flower Sushi Art Roll using Chef Trish Yee's recipe! These sushi rolls are not only lovely to look at – you can add in your own filling and ingredients to make it even tastier!
Cuisine : Asian Course : Appetizer Skill Level : Novice
Prep : 40 mins Cook : 0 mins Ready in : 40 mins Serves : 2

---
INGREDIENTS:
250g Sushi Rice
20g Oboro (pink-coloured fish flakes)
10cm Cheese Stick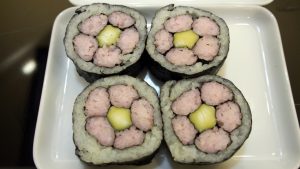 DIRECTIONS:
Divide the 250g sushi rice into 2 portions – 1 portion is to be mixed with the oboro to make the pink rice sushi.
Divide the pink rice into 5 equal rice balls.
Spread each rice ball evenly on a piece of nori and shape into a cylinder.
Lift the sushi mat on your left hand and place 3 rolls downwards, then place the cheese stick and the remaining 2 rolls on top.
Wrap up and form the flower shape.
Using 1 and ½ sheet of nori, connect both sheets with small grains of rice. Leaving 4 fingers width of nori empty, spread the sushi rice evenly.
Place the flower-shaped sushi roll onto the centre of the white sushi rice.
Pick up with your left hand and roll up from both ends.
If there is some space on top of the flower, add some rice to close the gap.
Slice into 4 equal pieces.