Satisfy your deepest chocolate cravings with this Dark Chocolate Tart! The luxurious Dark Chocolate filling, velvety and smooth, goes perfectly well with the tart shell. Prepare to help yourself to second servings! 
Cuisine : Baking Course : Dessert Skill Level : Novice
Prep : 30 mins Cook : 20 mins Ready in : 50 mins Serves : 4-6

---
INGREDIENTS:
Kalingo Ganache

200g Cream
60g Sugar
60g Glucose
200g Valrhona Kalingo
60g Unsalted butter, room temperature

Tart Shell Dough

160g Icing sugar
200g Cake flour
200g Bread flour
160g Unsalted butter, cold
90g Whole egg
5g Vanilla extract (optional)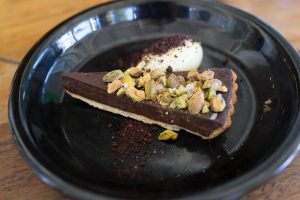 DIRECTIONS:
          For Kalingo Ganache
Prepare the workstation.

Scale the ingredients.

Bring to boil cream, sugar and glucose.

Finish off by adding butter and mix until fully incorporated.

Set aside for later use.

For tart shell dough

Prepare the workstation.

Scale the ingredients.

Mix well icing sugar, cake flour and bread flour.

Cut in cold butter to form mealy texture.

finish off by adding eggs to form a dough.

Set aside in the chiller till firm enough to be rolled out.

Bake at 180°C till golden brown.

Allow ganache to set in chiller before serving.