Enjoy eggplant with a twist by rolling ricotta inside eggplant slice before topping it with more cheese!
Cuisine : European Course : Appetizer  Skill Level : Novice
Prep : 10 mins Cook : 65 mins Ready in : 75 mins Serves : 2

---
INGREDIENTS:
1 Large eggplant
Salt & Pepper
Olive Oil
1 cup Diced tomato
1 cup Ricotta
3 cloves Garlic, minced
1 Large egg, beaten
½ cup Shredded mozzarella
¼ cup Grated parmesan
½ cup Diced tomato sauce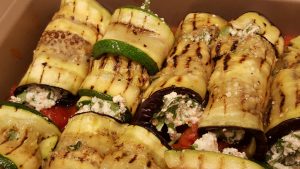 DIRECTIONS:
Slice ends off eggplants. Cut eggplants lengthwise into 1/4-inch-thick slices, discarding peel-covered ends. Lay slices on a rimmed baking sheet and sprinkle both sides liberally with salt. Let stand for 15 minutes, then rinse salt off under cold running water and pat slices dry.
Preheat oven to 200C. Brush both sides of eggplant slices with olive oil and put on grill pan Roast for 10 minutes a side tender. Let cool on sheets on wire racks until cool enough to handle.
In a large bowl, combine ricotta, garlic, eggs, 1/2 the mozzarella and 1/2 the Parmesan. Season with 1 tsp. salt and 1/2 tsp. pepper. In a baking tray, spread 1/2 cup of diced tomato over bottom of dish. Divide ricotta mixture among eggplant slices, spreading it down the center. Roll up slices and place seam-side down in baking dish. Top with remaining tomato and sprinkle with remaining mozzarella and Parmesan.
Cover baking dish with foil and bake for 25 minutes. Remove foil and grill at 250C until browned and bubbling, about 10 minutes longer.