Enjoy the fragrance of gula melaka with Chef Julie's Castella Gula Melaka Cake recipe! This light and jiggly cake is the perfect end of a meal!
Cuisine : Baking Course : Dessert Skill Level : Novice
Prep : 20 mins Cook : 70 mins Ready in : 90 mins Serves : 6-8 pieces

---
INGREDIENTS:
Group A

90g Corn oil
130g Egg yolks
120g Cake flour
80ml Fresh milk
40g Gula Melaka/ Palm sugar
1tsp Vanilla extract

Group B

220g Egg white
½ tsp Lemon juice
¼ tsp Salt
80g Castor sugar
50g Chopped Gula Melaka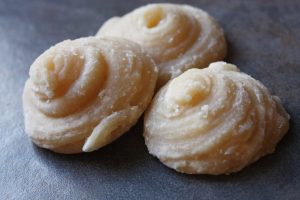 DIRECTIONS:
In a large mixing bowl, hand whisk egg yolks, oil, milk, whole egg until pale and well combined then sift in the flour and mix until smooth.
Whisk the egg white until thick foams before slowly adding sugar and continue whisking until soft firm peak.
Add ¼ portion of the meringue into egg yolks batter gently fold with a hand whisk till just combined before pouring the egg yolk batter back into the meringue.
Pour half the cake batter into the pan, then sprinkle some chopped gula Melaka on top. Top up with remaining half batter .Knock the cake tin on the table top t get rid of air bubbles.
Bake in a water bath for 10 minutes at 170C before reducing the temperature to 150C and continue to bake for another hour. Please take note that temperature and timing is only indicative here.
Remove from oven and drop the pan from a height a couple of times to minimize shrinkage. Remove from mould by holding the paper lining and lifting up on to a cooling rack. Peel the paper from the sides and allow to cool before slicing.