Forget regular pancakes! This super fluffy, super moist Dutch Baby Pancake is perfect for those lazy Sunday mornings when you want to do something extra special for breakfast!
Cuisine : Baking Course : Dessert Skill Level : Novice
Prep : 10 mins Cook : 15 mins Ready in : 25 mins Serves : 1

---
INGREDIENTS:
4 Eggs
2/3 cup While Milk
3 tbsp Sugar
½ cup All Purpose Flour
1 tsp Vanilla Extract
1 tbsp Butter
½ tsp Salt
Icing Sugar to garnish
Blueberries to garnish
Lemon/Lime wedges to garnish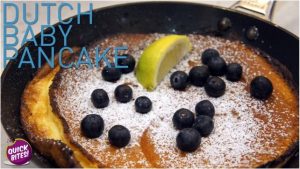 DIRECTIONS:
Heat a cast iron skillet/pan (oven-safe) in a 200°C pre-heated oven.
Combine eggs and whisk till frothy.
Add in milk, sugar, salt and vanilla extract. Whisk till combined.
Whisk in flour.
Remove hot pan from oven, add in butter to coat.
Pour in the batter.
Bake for 15 minutes till golden brown and puffy.
Sprinkle with icing sugar and top with blueberries.
Serve warm!