Here's how to make gooey, cheesy, garlicky pull-apart bread, one step at a time! Addictively buttery and cheesy with each piece and bursting with fresh herb and garlic flavours!
Cuisine : Baking Course : Appetizer Skill Level : Novice
Prep : 10 mins Cook : 20 mins Ready in : 30 mins Serves : 6

---
INGREDIENTS:
1 large loaf of French/Italian/Sourdough Bread)
½ cup Butter, melted
120g Cream Cheese, softened
4 tsp Garlic, minced
225g Cheddar Cheese
225 Swiss Cheese
10 slices Bacon (cooked and diced)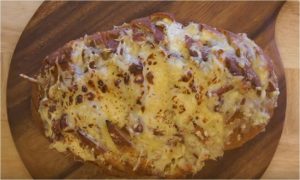 DIRECTIONS:
Stir garlic salt melted butter.
Combine all cheeses and bacon till well combined.
Using a bread knife/serrated knife, make diagonal cuts through the bread (be careful not to cut all the way through!)
Spread garlic mixture through-out the loaf.
Stuff dollops of cream cheese mixture into all of the cracks in the loaf.
Wrap loaf in aluminium foil and bake at 180°C for 20 minutes.
Serve hot!