Our Moist Chocolate Brownie recipe shared by Chef Philia Ng will astonish the die-hard chocolate lovers!
Cuisine : Baking Course : Dessert Skill Level : Novice
Prep : 20 mins Cook : 20 mins Ready in : 40 mins Serves : 4-6

---
INGREDIENTS:
Group A
140g Unsalted butter
138g Dark chocolates (preferably 55%)
Group B
120g Light corn syrup
200g Castor sugar
1tbsp Vanilla essence
Group C
Group D
115g Plain flour
t tsp Baking power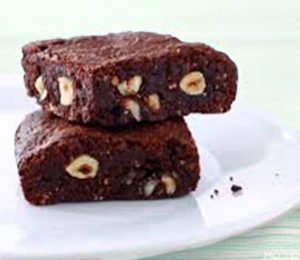 DIRECTIONS:
Melt butter and chocolates.
Add in Group B (Light Corn Syrup, Castor Sugar, Vanilla Essence) and stir well.
Add in Group C (Eggs) gradually and mix well.
Lastly add in Group D (Plain Flour, Baking Power) and mix well.
Pour the batter into a brownies tray and bake at 180 degree Celsius, fan mode for 15 – 20 minutes.