Don't toss out your watermelon rinds just yet! They make for an excellent relish that absorbs the dressing perfectly. The ground coffee beans infuse the pork with its rich, bittersweet notes and goes perfectly with the pork loins.
Cuisine : Fusion Course : Main Skill Level : Novice
Prep : 40 mins Cook : 80 mins Ready in : 120 mins Serves : 2

---
INGREDIENTS:
For the Pork

1 tbsp Very finely ground coffee beans
2 tsp Packed light brown sugar
1 tsp Chili powder
Salt
2 tbsp Olive oil
400g Pork loin, trimmed

For the Relish

¼ Watermelon
1 Orange
½ cup Packed light brown sugar
¼ cup Apple cide vinegar
1 Medium onion, thinly sliced
2 Red chillies, finely chopped (with ribs and seeds)
Salt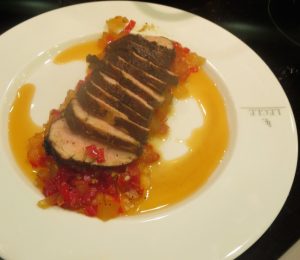 DIRECTIONS:
          For the Pork
In a small bowl, combine the coffee, brown sugar, chili powder, and 2 tsp salt. Add the olive oil and mix well. Rub the mixture evenly over the pork and set aside.

Preheat the oven (grill function) at 180ºC.

Sear the pork loin on all sides on a very hot frying pan. Move the loin into the oven and continue cooking for another 8 mins. Check the internal temperature it should reach 60ºC to 63ºC.

Transfer to a cutting board, and let rest for about 10 mins.

Slice the pork and serve with the watermelon rind relish.

For the Relish

Cut the flesh away from the watermelon rind. Cut enough of the flesh into ¼-inch dice to yield ½ cup (reserve the rest for another use). Cut the rind into ¼-inch dice; you should have about 1½ cups.

Slice the ends off one of the orange. Stand the orange on one cut end and cut off the peel and white pith to expose the flesh. Cut the orange segments from the membrane, cut each segment into 3 pieces, and put them in a small bowl. Squeeze the juice from the membrane into the bowl.

In a 3-quart saucepan, combine ½ cup water with the watermelon flesh and rind, orange segments and juice, brown sugar, vinegar, onion, chilli, and ¼ tsp. salt. Bring to a boil over medium-high heat, stirring occasionally, until the sugar dissolves, about 4 minutes. Reduce the heat to low and simmer, stirring occasionally, until the rind is translucent and the mixture thickens, about 40 minutes. Season to taste with salt, and let cool to room temperature.