If you are a durian and kueh lover, these will the perfect nonya kueh for you! It is sweet and soft with a hint of durian, it tastes even better with desiccated coconut!
Cuisine : Asian Course : Dessert Skill Level : Novice
Prep : 20 mins Cook : 15 mins Ready in : 35 mins Serves : 16

---
INGREDIENTS:
100g Sugar
130g Coconut Milk
150g Sago
50g White Grated Coconut (topping)
20g Wheat Starch
250g Durian Flesh
250g White Grated Coconut
½ tsp Salt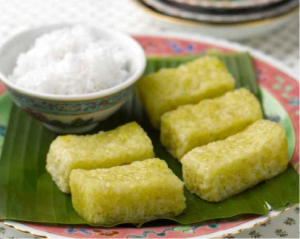 DIRECTIONS:
Boil sugar and coconut milk in a saucepan and turn off the fire.
Pour in the drained sago into the pot and mix well immediately.
Add in white grated coconut (50g), wheat starch, durian flesh into the pot and mix well immediately.
Pour into 10″ tray and steam for 40 mins.
Coat with white desiccated coconut.