Enjoy the taste of Thailand with this creamy Coconut Ice Cream which taste amazing by its own or top it with any of your favourites topping for a different flavour!
Cuisine : Baking Course : Dessert Skill Level : Novice
Prep : 60 mins Cook : 0 mins Ready in : 60 mins Serves : 2

---
INGREDIENTS:
120ml Dairy Cream (35% fat)
100ml Coconut Cream
150g Coconut Water
¼ tsp Salt
2 nos. Pandan Leaves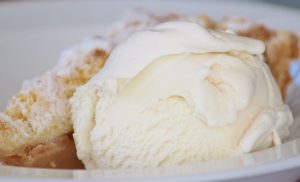 DIRECTIONS:
Pour coconut water and coconut cream together.
Add in pandan leaves and bring mixture to boil. Cool it in an ice bath.
Whip cream and add in condensed milk.
Fold the 2 mixtures together.
Churn in the ice cream maker.
Serve with cream corn, canned fruits, sea coconut or peanuts.