This gorgeous Red Velvet Molten Lava Cake topped with a delightful Vanilla Ice cream for the ultimate indulgence!
Cuisine : Asian Course : Main Skill Level : Novice
Prep : 30 mins Cook : 40 mins Ready in : 70 mins Serves : 2-4

---
INGREDIENTS:
1 1/4 cup Basmati Rice
1 inch Cinnamon stick- broken into half
2 no Bay leaves
3 no Green cardamoms
Salt to taste
300 g Button Mushrooms
1 tbsp Ginger- chopped
2 tbsp Garlic- chopped
2 no Green Chilies-chopped
1 no Onion- sliced
2 no Tomatoes- sliced
3 tbsp Coriander leaves-chopped
4 tbsp Fried Onions
1 tbsp Cumin seeds
1/2 tsp Turmeric powder
1/2 tsp Chili powder
1/2 tbsp Garam Masala
1 tbsp Lemon juice
4 tbsp Fresh Cream
1 tbsp Ghee
2 tbsp Truffle Oil
2 tbsp Cooking Oil
Salt
240 g Puff Pastry
1 tsp Chaat masala
1 tbsp Butter- melted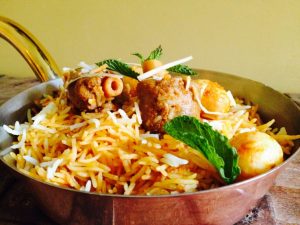 DIRECTIONS:
Cook the rice in 2 ½ litres of water along with the Basmati rice, Cinnamon stick, bay leaves, green cardamoms, salt till three quarters done. Keep aside.
Heat cooking oil and add the cumin seeds. When they begin to crackle add ginger, garlic, green chili and sauté for a minute. Add sliced onions and fry till translucent. Add tomatoes and cook till they are mushy.
Add turmeric and red chili powder followed by mushrooms and (200ml) water. Cook for about 3-4 minutes and add the cream, salt and bring to a boil.
Remove from heat and mix in garam masala and lemon juice.
Mix in the cooked rice and half of the chopped coriander leaves.
Transfer into a copper pot or casserole and sprinkle with remaining Coriander leaves, truffle oil, ghee and fried onions on top.
Cover with puff pastry and bake.
Puff Pastry: A) Roll out the puff pastry slightly larger than the diameter of the pot. Cover pot with pastry, seal edges with water. B) Brush with melted butter and sprinkle chaat masala, onion seeds, and sesame seeds. C) Place in a preheated oven and bake for 20 minutes till the pastry is crispy and golden.