Search of the best chocolate cake is over! Indulge in the sweet symphony of flourless chocolate cake and raspberry cream cheese glazed with chocolate ganache.
Cuisine: Baking Course : Dessert  Skill Level : Novice
Prep :  40 mins Cook : 40 mins Ready in : 1 hr 20 mins  Serves : 7 or 8 inch layered cake
---
INGREDIENTS                                          
Flourless Chocolate Cake

210g Unsalted Butter
210g Dark Chocolate Coverture
4 no Egg Yolks
105g Caster Sugar
4 no Egg White
105g Caster Sugar

Raspberry Cream Cheese

250g Cream Cheese
15g Icing Sugar
100g Raspberry Puree

Chocolate Ganache

200g Dark Coverture
150g Dairy Whipping Cream
20g Unsalted Butter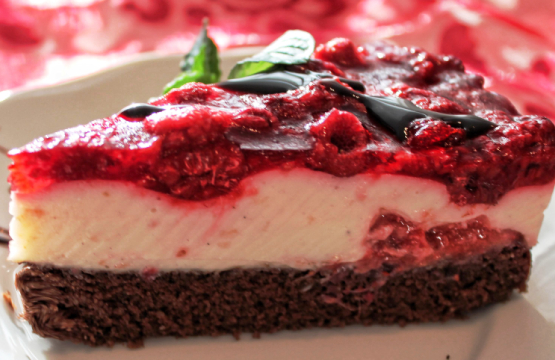 DIRECTIONS TO CHOCOLATE CAKE
Preheat oven to 190C.
Grease two 7" round mould.
Combine unsalted butter and dark chocolate couverture in a bowl.
Place over bain marie, until melted.
In a mixing bowl, whisk egg yolk and caster sugar until ribbon stage.
In a stand mixer bowl, whip the egg white; add sugar gradually until become a meringue.
Fold the egg yolk mixture into chocolate mixture until homogenous.
Fold the meringue in parts into the mixture, gently. Do not Over Fold.
Divide the batter and deposit it into the two 7"moulds.
Bake in the preheated oven for approximately 35 to 40 mins (vary depending on individual oven)
DIRECTIONS TO RASPBERRY CREAM CHEESE
In a mixing bowl, cream the cream cheese and icing sugar until light and fluffy.
Fold in the raspberry puree to create a marble pattern.
DIRECTIONS TO CHOCOLATE GANACHE          
Boil the cream.
Add the boiled cream part by part into the chocolate and mix to emulsify.
Add butter, and reserve for assembly.