Sink your teeth into this luscious Dark Chocolate Lava Cake with Raspberry Sorbet by Chef Felix Chong!
Cuisine : Baking Course : Dessert Skill Level : Novice
Prep : 15 mins Cook : 10 mins Ready in : 25 mins Serves : 6

---
INGREDIENTS:
100g Dark Chocolate Bits
100g Unsalted Butter
75g Icing Sugar
50g All-Purpose Flour
15g Cocoa Powder
4 Whole Eggs
6pcs Aluminium Cup
All-purpose flour for dusting
1 btl Oil Spray
1 tub Raspberry Sorbet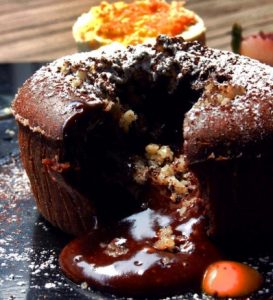 DIRECTIONS:
Preheat the oven to 190°C.
Place the dark chocolate bits and unsalted butter in a stainless steel bowl over boiling water to melt.
Place the dry ingredients together in another bowl and mix well.
Once the chocolate and butter melted completely remove from the boiling water and add in the dry mixture and stir to make a paste.
Gradually add in the eggs.
Spray the aluminium cup with oil, and lightly dust with flour.
Place the lava cake mixture into the cup and make for steam bake for 7 to 9 minutes.
Once it's done, slowly unmould it and place on a plate, on the side, serve a generous scoop of raspberry sorbet and garnish with icing powder.