As if the Swiss Cake Roll was not pretty and cute enough as it is, now you can make your very own adorable Bear-Patterned Swiss Roll! This one is sure to impress. 
Cuisine : Baking Course : Dessert Skill Level : Novice
Prep : 90 mins Cook : 20 mins Ready in : 110 mins Serves : 2-4

---
INGREDIENTS:
For the Cake Batter Ingredients (A): Egg Yolk Mixture 

3 Egg Yolks
35g Caster Sugar
40g Vegetable Oil
60g Milk
½ tsp Vanilla Essence
80g Cake Flour
¼ tsp Red Food Colouring

Ingredients (B): Egg White Mixture

3 Egg Whites
30g Caster Sugar
1 tsp Corn Flour

To make the pattern: 

Pinch of Corn Flour
1 Egg White

Egg Yolk Mixture

Egg Yolk Mixture
2 tsp + 2 tsp + 2 tsp Cake Flour
1½ tsp + 1½ tsp Cocoa Powder
1/8 tsp Black Food Colouring

For the chocolate cream filling:

½ tsp Gelatine powder dissolved in 2 tsp hot water
200ml Whipping Cream
1 tbsp Caster Sugar
Strawberry Filling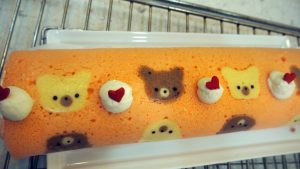 DIRECTIONS:
Preheat oven using 170°C. Prepare a 10" x 10" or 25cm baking tray and line with silicon mat or parchment paper over the design template. Grease the silicon mat/parchment paper with vegetable oil.
Beat 3 egg yolks with 35g of sugar for about 8-10 minutes till it forms into a thick pale yellow mixture.
In a separate bowl, combine 60g of water, 40ml vegetable oil and ½ tsp vanilla essence.
Pour in slowly in addition to the egg yolk mixture, till it is fully incorporated with the egg yolk mixture.
Sift in 80g of cake flour and continue to beat till batter is sticky.
In 3 separate small bowls, add 2 tsp of egg yolk batter & 1 tsp of cake flour in each small bowl.
In a separate bowl, beat 1 egg white till glossy and stiff peaks are about to form, add a pinch of corn flour and continue to beat until stiff.
Add 2 tbsp of the egg white mixture to each small bowl and set aside the remaining egg whites mixture.
Add 1/8 tsp of cocoa powder to one of the bowl and mix well.
Add black food colouring to one small bowl and mix well.
Transfer the 3 bowls of pattern mixture into 3 separate piping bags.
Pipe the black coloured pattern mixture to draw the eyes and nose of the bear. Put inside oven to bake for 1 min.
Once the eyes and noses are baked, pipe the white and brown pattern mixture to draw the bear's snouts. Bake in oven for another 1 min.
Once the snouts are baked, pipe the remaining white and brown mixture to draw the bear's faces on top of the snouts. Bake further for another 1 min.
Add ¼ tsp of red food colouring to the egg yolk batter.
In a big mixing bowl, beat 3 egg whites with 30g caster sugar until it turns glossy and stiff peaks, add in 1tsp of corn flour and continue to beat till stiff.
Mix in the remaining egg white and mix well.
Add the egg white mixture, 1/3 at a time, to the egg yolk batter and fold in using the spatula.
Dust the baking tray light with some cake flour to avoid cake sticking to the silicon mat.
Pour batter onto the baking pan with baked patterns. Spread the batter evenly using the spatula. Gently tap pan onto the table to release any air pockets.
Bake in preheated oven for 15mins. Remove from oven and cover with a new sheet of parchment paper. Invert the pan onto a wire rack and unmould the cake.
Gently peel of the silicon mat and use a new sheet of parchment paper to cover the top of the cake to allow latent heat to escape for about 5 minutes.
Invert the cake onto the silicon mat and roll up the cake and leave it to cool for 15mins.


To make the whipped cream filling:

Dissolve the gelatine powder completely in hot water.

Using an electric beater, whip the cream with sugar using high speed till it becomes glossy and stiff peak, add in the gelatine solution. Continue to beat for another min.

Put in the refrigerator to chill until ready to use.

To assemble:

Dissolve 10g sugar in 20g of hot water.

Unroll the cake and brush the cake with the sugar syrup and spread cream filling evenly, leaving a 3cm space at the opposite end.

Wrap the cake with parchment paper and twist both ends to secure the roll.

Refrigerate for at least an hr and slice off both ends of the deco roll before serving.