Enjoy this traditional braided challah bread has eggs, a hint of honey, and a golden brown egg-wash crust!
Cuisine : Baking Course : Appetizer Skill Level : Novice
Prep : 80 mins Cook : 30 mins Ready in : 110 mins Serves : 6

---
INGREDIENTS:
Dough

60ml Milk
45g Butter
3 Eggs
1 Egg yolk
1 tsp Salt
45g Honey
440g Bread flour
½ tsp Saffron
1¼ tsp Instant yeast

Glaze

1 Egg white beaten with 1 tbsp water

Topping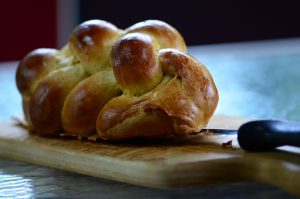 DIRECTIONS:
Add all the dough ingredients to the bread pan and select the dough cycle.
When the cycle is complete, remove the dough to a lightly floured surface, cover and let it rest for 5 mins.
Roll the dough into a 9 inch log and cut off one third. Divide the larger portion into 3 pieces and roll each piece into a 15 inch rope.
Place the ropes on a parchment lined baking sheet.
Braid the ropes together and lightly tuck the edges in.
Make a second braid with the smaller piece of dough. Place it on top of the bigger braid.
Cover it and let it rise in a warm place for 40 – 45 minutes or until doubled in bulk.
Brush the glaze on the braid and sprinkle it over with the seeds.
Bake at 375 F for 30 – 35 minutes. Cover the bread loaf with a foil tent towards the last 10 minutes to prevent over browning.