Another crowd favourite! The prawns are fried with salted egg and butter which gives the creamy texture and salty flavour. Curry leaves are toss with the fried prawns to give it an extra complexity to the palate.
Cuisine : Asian Course : Appetizer Skill Level : Novice
Prep : 15 mins Cook : 10 mins Ready in : 25 mins Serves : 3

---
INGREDIENTS:
Prawns
9 Large Prawns (peeled, back slit open to remove entrails)
¼ tsp Salt
½ Egg (beaten)
Corn or Potato Starch (for dusting)
Oil (for deep frying)
Sauce
1 tbsp Butter
3 Salted Egg Yolks (minced)
¼ tsp Salt
¼ Five Spice Powder
Garnish
Ice Berg Lettuce (shredded)
Red Chillies (sliced)
Crispy Fried Curry Leaves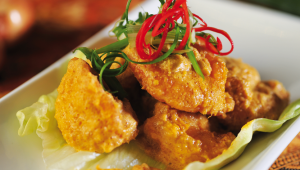 DIRECTIONS:
Marinate prawns with wine and salt.
Add the beaten egg and dust the prawns with potato starch.
Deep fry the battered prawns in hot oil for a minute or two till golden brown.
Melt butter and dissolve the minced egg yolk into the sauce.
Season sauce with salt and five spice powder.
Add the prawns and curry leaves.
Toss evenly and serve over the shredded lettuce.