Each of this mouth-watering Crisp Fish Fillet with Caramelized Shallots' tasty elements complement each other, resulting a very savoury and tasty dish. It will leave a deep impression on your first bite!
Cuisine : Asian Course : Main Skill Level : Novice
Prep : 10 mins Cook : 15 mins Ready in : 25 mins Serves : 4

---
INGREDIENTS:
420g Fish Fillets
½ tsp Salt
1 tsp Coarse Ground Black Pepper
Potato Starch (for dusting)
Oil (for deep-frying)
3 tbsp Extra Oil
40g Whole Garlic (thickly sliced)
100g While Shallots
20g Ginger
5g Dried Chillies
15g Sugar
4 tbsp Water
1 tbsp Oyster Sauce
2 tbsp Light Soya Sauce
½ tsp Dark Soya Sauce
10g Thai Basil Leaves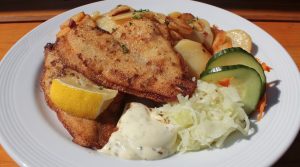 DIRECTIONS:
Dust sea bass filets with potato starch and deep fry in hot oil till crispy.
Heat oil in pan and sauté garlic and shallots till golden brown. Add ginger, dried chillies and sugar. Cook till aromatic and sugar caramelizes slightly.
Pour in oyster sauce, two soya sauces and add fish fillets and basil. Toss evenly and transfer to heated clay pot and serve.