Stay healthy with this dreamy and creamy Coconut Barley with Strawberry Chia Jam which is perfect for breakfast!
Cuisine : European Course : Dessert Skill Level : Novice
Prep : 540 mins Cook : 30 mins Ready in : 570 mins Serves : 1

---
INGREDIENTS:
70g Uncooked pearl barley
125g Full-fat coconut milk, add extra if needed
25g Honey
For the Strawberry Chia Jam
100g Fresh strawberries, stalks removed
2 tbsp Honey
15g Chia seeds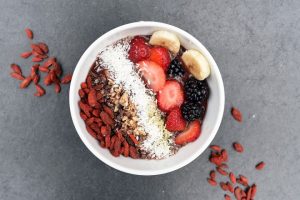 DIRECTIONS:
Place the pearl barley in a bowl, cover with water, and leaves to soak overnight or up to 8 hours.
Drain, rinse under running water, and drain well again.
For the jam, place the strawberries in a large bowl and roughly mash with the back of a fork so that juices will be released yet retaining the texture of the fruit.
Add 10 gm honey and chia seeds and mix well to combine. Chill it in the fridge until thickened.
Place the barley, coconut, and honey in a large saucepan and bring it to boil.
Reduce heat to a simmer and cook for 20-30 minutes or until the barley is tender, but still chewy, and until the mixture has reached a thick porridge-like consistency.
Check frequently and add more milk if they mixture seems too dry or if the liquid is absorbed too quickly.
Remove from heat.
Pace the barley in a small soup bowl; top with one tablespoon of the jam and serve warm or at room temperature.