Serve this classic Tuscan fish stew to your family for a heart-warming dinner. Perfect when served with crusty bread that will soak up all the goodness
Cuisine : European Course : Main Skill Level : Novice
Prep : 15 mins Cook : 65 mins Ready in : 80 mins Serves : 4

---
INGREDIENTS:
2 tbsp Vegetable oil
5 tbsp Tomato paste
2 Garlic cloves, minced
1/2 tsp Chilli powder
1/2 tsp Tumeric
1/2 tbsp Paprika
1/2 tbsp Cumin
Salt & pepper
2 Potatoes
1 Large carrot
2 Tomatoes
4 Fish fillets
1 bunch Coriander, roughly chopped
1/2 can Chick peas
Clams, mussels, prawns – Option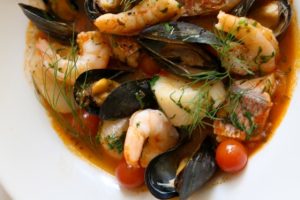 DIRECTIONS:
Mix paste ingredients in a measuring jug.
Slice potatoes, carrot & tomatoes 1/2 cm thick.
Lay potato slices, followed by half the paste, and carrots and tomatoes then coriander, then half the chick peas.
Repeat with another layer.
Simmer at low heat for 1 hour.
Before serving , add prawns, clams & mussels -if using and steam covered for 5 mins.
Serve hot , garnished with fresh coriander.