Cold Angel Hair Pasta with Truffle, Hokkaido Scallops and Basil Caviar
by Felix Chong

Relish spoonful of this flavourful Cold Angel Hair Pasta with Truffle, perfectly seared Hokkaido Scallops with Basil Caviar.
Cuisine : Fusion Course : Appetizer Skill Level : Novice
Prep : 10 mins Cook : 5 mins Ready in : 15 mins Serves : 1-2

---
INGREDIENTS:
50gm Angel hair pasta
10ml White truffle oil
1teasp Chives
1teasp Basil caviar
1teasp Seaweed powder
15ml Japanese Shoyu
1teasp Ikura
Dill
1pc Hokkaido scallop size 21/25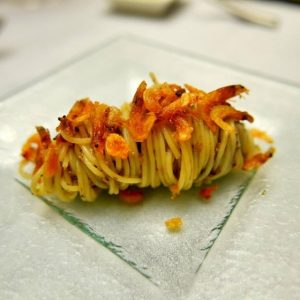 DIRECTIONS:
Prepare a pot of salted boiling water and a pot of ice water.
Place the angel hair pasta into the boiling water and cook for 2 minutes to 2 minutes 30 seconds
Strain the pasta and blanch into the ice cold water immediately to cool down the pasta for approximately 20 seconds.
Drain off the pasta from the ice water.
In another bowl, prepare the mixture of the truffle oil, chopped chives, seaweed powder & Japanese shoyu.
Transfer the pasta into the mixture and mix well.
Use long tweezers or a fork & twirl the pasta.
For the scallop, slice diagonally into 4 pieces.
Lay the scallops on top of the twirled pasta.
Garnish with Ikura, basil caviar and dill.
Optional: you may alburi the scallops too!