A popular snack worldwide, waffles can be eaten for breakfast, lunch and dinner. Here's our version of classic waffles – fluffy, moist and tasty. Serve it with your favourite ice-cream, topped with chocolate sauce, whipped cream or icing sugar! 
Cuisine : Baking Course : Dessert Skill Level : Novice
Prep : 10 mins Cook : 5 mins Ready in : 15 mins Serves : 2

---
INGREDIENTS:
1 cup (160g) Plain flour
1¼ tsp (10g) Baking powder
2g Salt
2 Egg yolks
2 Egg whites
1½ tsp Vanilla extract
½ cu (100g) Milk
4 tbsp Melted butter
3 tbsp (60g) Fine sugar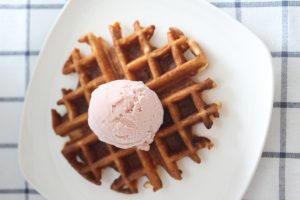 DIRECTIONS:
Heat the waffle iron.
Mix flour, salt and baking powder in a medium bowl.
Measure milk, cream and melted butter in a measuring jug; mix in the egg yolk and vanilla.
Pour the mixture into the dry ingredients and whisk until just mixed.
In another bowl, beat the egg white to soft peaks. Sprinkle in sugar and continue to beat until the peaks are firm and glossy.
Drop the whipped egg white onto the batter and fold in with a spatula until just incorporated.
Pour the batter onto the hot waffle iron and cook until the waffle is crisp and golden (follow the manufacturer's instructions for timing at first and then adjust to your liking).
Set the waffle directly on the oven rack to keep it warm and crisp. Repeat with the remaining batter, holding the waffles in the oven (don't stack them).
When all the waffles are cooked, serve immediately with chocolate, whipped cream or icing sugar.