Enjoy this spicy, Thai style chicken dish with cashew nuts that taste amazing over rice!
Cuisine : Asian Course : Main Skill Level : Novice
Prep : 15 mins Cook : 10 mins Ready in : 25 mins Serves : 4

---
INGREDIENTS:
2 thick slices of Boneless Chicken
1/2 cup Plain Flour
1/2 cup Rice Flour
1 tbsp Garlic (Chopped)
1/2 cup Onions (Thick Slices)
1/2 cup Cashew Nuts (Baked)
3 Dried Chilies (Cut into 2cm long)
1/cup Mushroom (Thick Slices)
4 pcs Baby Corn (Cut into 2cm long)
1/2 tbsp Fish Sauce
2 tbsp Oyster Sauce
1/2 tbsp Corn Flour + 1/4 cup Water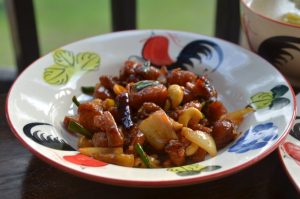 DIRECTIONS:
Mix plain flour with rice flour. Coat the chicken pcs.
Fry chicken till just cooked.
Put 4 tablespoon oil and fry garlic and onions.
Add in the dried red chilies, chicken, corn and mushroom.
Add in seasonings and in corn starch water.
Fry till thick and add in the cashew nuts. Turn off the fire.