Chef Eric Low shares his recipe for a hearty and flavourful Beer Braised Pork Belly with onions for the ultimate feast!
Cuisine : Asian Course : Main Skill Level : Novice
Prep : 2900 mins Cook : 150 mins Ready in : 3050 mins Serves : 4

---
INGREDIENTS:
400 g Pork belly, sliced thick- 100g each
1 tsp Coarse ground black pepper
2 tbsp Brown sugar
1 tsp Salt
2 tbsp Oil for cooking
1 no White onions, cut into cubes
1 stalk Celery, cut into cubes
1/2 medium Carrot, cut into cubes
1 no Bay leaf
1 sprig Thyme
4-6 no Cloves
1 no Cinnamon stick/ (1/3 tsp cinnamon powder)
350 ml Beer
500 ml Chicken stock
Salt & pepper to taste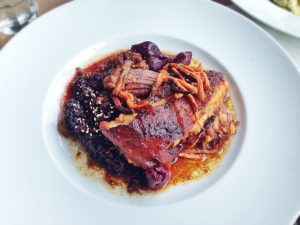 DIRECTIONS:
Mix pepper, brown sugar and salt together. Rub over pork pieces and cure for two days in the fridge.
Rinse and pat dry pork pieces with paper kitchen towels.
Preheat oven to 170˚C. Heat a heavy, medium-sized pot over medium-high heat. Pour oil into the pot, and sear the pork pieces on each side golden brown. Set the meat aside and remove excess fat, leaving about 1 tbsp in the pot.
Add onions, celery and carrot to the pot, sauté until soften and slightly caramelized. Add the bay leaf, thyme and beer. Bring sauce to a simmer, and reduce by half.
Return pork to pot. Pour in chicken stock. Bring braise to a simmer, skimming off any visible scum and fat. Cover and place into the oven on the centre rack. Cook until meat is fork tender, about 2.5 hours.
After oven braising is done, transfer meat pieces out of pot and keep warm. Drain braising liquid and discard the solids. Bring liquid to a simmer and reduce until desired consistency and flavour, season if needed. Return meat to pot and serve with sauce.