Nothing tops this super moist, chocolaty banana bread shared by Chef Mimi Wahadi!
Cuisine : Baking Course : Dessert Skill Level : Novice
Prep : 15 mins Cook : 30 mins Ready in : 45 mins Serves : 8

---
INGREDIENTS:
170g Ripen bananas
150g Caster sugar
100g Whole eggs
170g All purpose flour
5g Baking soda
5g Baking powder
50ml Milk
50g Melted butter
60g Dark chocolate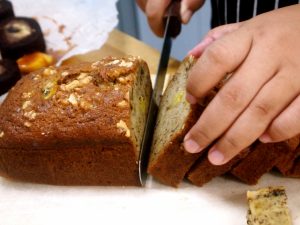 DIRECTIONS:
Pre-heat the oven to 170°C.
Sift flour, baking powder and baking soda in a bowl.
In a stand mixer fitted with whisk attachment, whisk bananas and sugar till light.
Add eggs and continue to whisk till pale.
Add dry ingredients.
Add melted butter and milk.
Whisk batter till light.
Add chocolate and stir to combine.
Deposit batter into the loaf pan and bake for approximately 20-30 minutes.
Use a testing pin to check for doneness.