Relish every spoonful of this luscious Chocolate Torte Cake topped with Chocolate Ganache, the best way to end your weekend!
Cuisine : Baking Course : Dessert Skill Level : Novice
Prep : 40 mins Cook : 60 mins Ready in : 100 mins Serves : 6-8

---
INGREDIENTS:
115g Unsalted butter
120g Cake flour
1/2 teasp Salt
1/4 teasp Baking powder
260g Semisweet chocolate, coarsely chopped
1 1/4 cups Sugar
1 teasp Pure vanilla extract
2 Large eggs
1/2 cup Low-fat buttermilk
1/2 cup Heavy cream
150gm Semisweet chocolate, coarsely chopped
2 tbsp Corn syrup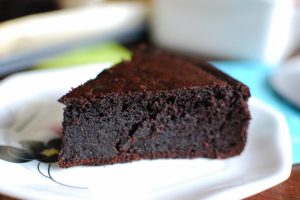 DIRECTIONS:
Make cake: Preheat oven to 350 degrees. Butter an 8-inch round cake pan; line bottom with parchment or waxed paper.
In a medium bowl, whisk together flour, salt, and baking powder. Set aside.
In a large heatproof bowl set over (not in) a saucepan of simmering water, melt butter and chocolate, stirring frequently, 4 to 5 minutes. Remove bowl from pan. Whisk in sugar and vanilla, then eggs, buttermilk, and pistachios. Fold in flour mixture just until combined.
Pour batter into prepared pan. Bake until a toothpick inserted in centre comes out with a few moist crumbs attached, 60 to 70 minutes. Let cool in pan 5 minutes; run a knife around edge, and invert onto a wire rack. Remove paper, and let cool completely, about 3 hours. (To store, wrap in plastic, and keep at room temperature, up to 3 days).
Make ganache: In a small saucepan, bring cream to a simmer; remove from heat. Add chocolate, and let stand 5 minutes; whisk until smooth. Let cool until mixture falls back in ribbons when lifted with a spoon, 2 to 6 minutes.
Set cake on a serving platter; tuck strips of parchment paper under edge of cake to prevent ganache from dripping on platter.
Pour ganache onto centre of cake; using a table knife, spread evenly over the top and down the sides. Let set, about 30 minutes. Remove paper from under cake; serve.