Baked Tapioca Kueh
Cuisine : Asian Course : Dessert Skill Level : Novice
Prep : 15 mins Cook : 60 mins Ready in : 115 mins Serves : 3

---
INGREDIENTS:
Group 1 (Dissolve in a saucepan)

240gm Thick Coconut Milk
110gm Sugar
¼ tsp. Salt
4 pcs Pandan Leaf

Group 2 

35gm Butter
1 teasp. Vanilla Extract

Group 3

400gm Grated Tapioca
Grated Coconut
20gm Tapioca Flour
7gm Wheat Starch
1 Egg
1 Egg Yolk
* 1 egg yolk + a pinch of salt for brushing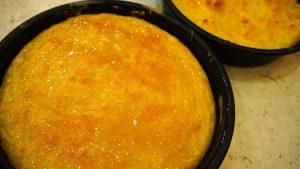 DIRECTIONS:
Dissolve Group 1 in a saucepan.
Add in Group 2.
Mix the Group 3 together & pour the above mixture into it. Cook till mixture is sticky.
Pour into baking tin & steam for 20mins at high heat.
Egg wash & bake at 190C for 40mins till brown.


Tips:

You can bake Pandan flavoured Tapioca Cake by adding 50gm freshly squeezed pandan juice into the coconut milk. Reduce the coconut milk by 50gm.

It is strongly advisable to buy ready grated Tapioca at some traditional market where the stalls have coconut shredding machine.

You can store the grated tapioca frozen for about 3months and use them anytime you want to bake it.