This rich, decadent cake is easily whipped using food processor. In fact, there is no real need for mixer at all. This sweet treat is perfect for parties as individual serving minis, or you can bake it big for a special occasion.
Cuisine : American Course : Dessert Skill Level : Novice
Prep : 20 mins Cook : 20 mins Ready in : 40 mins Serves : 8

---
INGREDIENTS:
500g Philadelphia Cream Cheese
75ml Double Cream
3 Large Eggs
1 tsp Vanilla Extract
Juice and Rind from 1 Lemon
35g Plain Flour
50g Castor Sugar
½ tsp Salt
100g Dark Chocolate Couverture (56% cocoa solids-melted)
Biscuit Crust
300g Digestive Biscuits
125ml Unsalted Butter
A pinch of Salt
20g Castor Sugar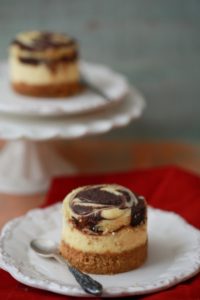 DIRECTIONS:
In a food processor, pulse the digestive biscuits with salt and sugar until fine crumbs are formed.
Melt the butter and stir into the biscuit crumbs.
Press the biscuit crumbs into small dessert rings lined with aluminium foil, or a baking tin.
Bake at 180°C for 10 minutes.
Add all the cake ingredients, except chocolate into the food processor.
Blend until the batter becomes really smooth.
Spoon 1/4 of the batter into a separate bowl and mix in with the melted chocolate.
Pour the remaining batter onto the biscuit bottom.
Spoon the chocolate batter on top and swirl into marble effect using a skewer.
Cover the bottom of the baking tin with aluminium foil and place onto a baking tray.
Pour water into the tray until around 2 cm high.
Bake the cake at 160°C for 20 minutes for mini cakes, or 50 minutes for 9 inch pan.
Once baked and cooled, refrigerate cake until ready to serve.