Prepare this Chinese delicacy just like a professional chef with this easy-to-follow recipe.
Cuisine : Asian Course : Main Skill Level : Novice
Prep : 10 mins Cook : 55 mins Ready in : 65 mins Serves : 8

---
INGREDIENTS:
2 Canned Abalone (sliced)
6 Dried Mushrooms (soaked & blanched)
10 Rehydrated Tendons
6 Arrowroot
2 stalks of Shanghai Vegetables (sliced & blanched)
120ml Stock
Some Potato Starch Mixture
Seasoning
1 tsp Knife Thai Fish Sauce
300ml Stock
2 tsp Sugar
2 tsp Oyster Sauce
2 tsp Sesame Oil
1 tbsp Hua Diao Wine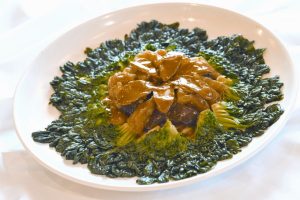 DIRECTIONS:
Cook tendons in boiling water until soft, remove. Peel arrowroot and cook in boiling water until soft, remove and cut into round pieces.
Place abalone in a soup bowl, followed by tendons, mushrooms, arrowfoot and 120ml of stock. Steam for about 30 minutes, then remove.
Pour the liquid into a pot and add the seasoning. Bring to a boil, then thicken with potato starch mixture. Turn off the heat. Invert the abalone and other ingredients onto a plate, drizzle with sauce and serve with Shanghai vegetables.